White Oak Cabinet ideas to inspire your kitchen design!
Raise your hand if you're tired of seeing the all white kitchen everywhere??🙋‍♀️🙋‍♀️🙋‍♀️
Well, let us introduce you to the white oak cabinets trend! The perfect antidote to the boring kitchens of old. When you hear "oak cabinets" may have visions of your Grandma's 1980s kitchen, but we think the kitchens below prove that this trend is as stylish as can be for 2023. White oak cabinets are versatile, warm and are a great neutral for the other things you have going on in your kitchen. Pair them with white cabinets for a cozy finish. Or if you're going for a two-tone kitchen, your white oak cabinets will be a perfect complement to almost any design.
Here are a few things we love about kitchen cabinets in white oak:
They are incredibly durable! Oak cabinetry is one of the strongest woods with a hardness score of 1360, making it a fabulous choice for family kitchens or high trafficked kitchens.
Oak is more affordable than other woods like cherry or maple.
You can find so many different options. White oak doesn't just come in one shade, you can find a large range of tones from a warm wheat color to a more brown tone.
Oak cabinets are extremely versatile. Modern or classic, you can find different grains and stains that will work in almost any design style.
Natural light and big windows work so well with light oak. This kitchen could feel dark, but with all that natural light it feels so bright and airy.
The light oak stain used in this kitchen is very light, we love it with the brass knobs, marble backsplash and cream cabinets!
A white oak cabinet looks amazing in modern kitchen designs. Choose a flat front cabinet and streamlined hardware for a polished look.
Here's a great example of a warmer tone of white oak cabinetry. We love the classic style and how these cabinets pair with the navy blue cabinets!
We are also seeing some kitchen designs where the cabinets are white with a stunning white oak kitchen island. Two-tone kitchens are so stylish!
Or how about a three-tone kitchen design? We love the white cabinets, with the black accent cabinet and white oak kitchen island pictured below. The wood floors complete the look.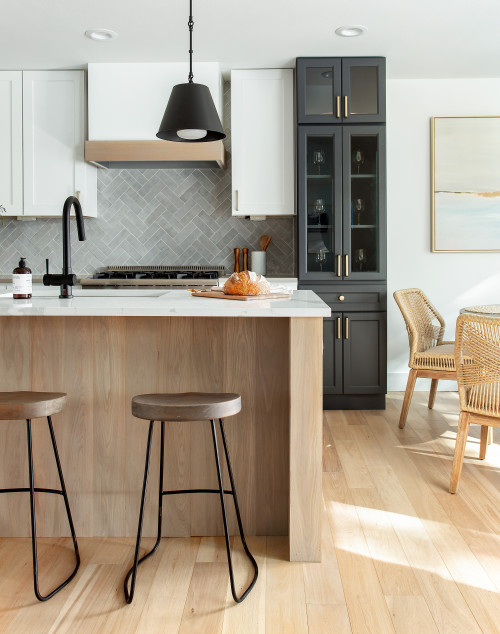 Anything with marble is going to be stunning, but the warm tones of the oak cabinets and marble below are especially beautiful. We also love how the white walls make the neutrals pop!
One of the best parts about white oak cabinets is that you have so many different stains to choose from. You can find super light shades and then warm brown ones like this gorgeous kitchen. We also love the subway tile backsplash.
The colors chosen in this kitchen design are just perfect, from the oak cabinetry to the charcoal stove hood and sage green walls. Stunning!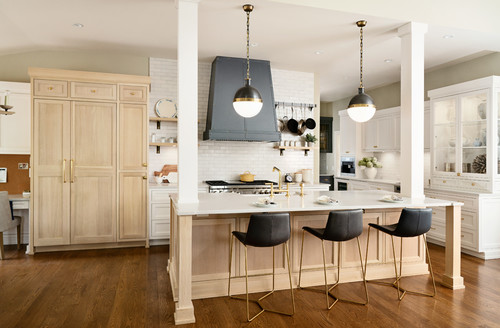 A butcher's bar with the most beautiful brass, white oak and backsplash. We love the grouting in the tile and how it pairs with the other design elements.
A modern farmhouse kitchen featuring warm honey oak cabinets and white cabinets on top. This is a perfect family kitchen!
Another gorgeous white oak modern kitchen. This one feature statement cabinet pulls and beautiful beams!
Don't be afraid to go all in on oak! This classic kitchen is so warm and beautiful with it's singular tones.
The mix of classic and contemporary is working perfectly here. The shaker cabinets in two tones and the black accents create a warm and inviting space.
What's your favorite white oak kitchen? Would you consider white oak cabinetry in your kitchen design?