Navy blue kitchen cabinets is not for everyone, but it's definitely a kitchen design trend rapidly taking hold in kitchen design. It's bold for sure, but there is also a classic look to a dark blue kitchen that makes this trend worth considering as your plan your kitchen remodel. When creating your navy blue kitchen, think about the lighting in your space. Kitchens with big windows, french doors or skylights work incredibly well for this trend. You can also brighten up your space with white paint and countertops.
Without further ado, here are some of our favorite ways to use a blue kitchen cabinet in your space!
All Navy Blue Kitchen Cabinets
Why not go all in on your navy blue kitchen? Many home owners are doing their entire kitchen in navy blue cabinets and we love it. This look is timeless and classic and pairs well with most countertops and finishes, but especially lighter tones and metallics.
Photo from here. 
Navy & White Kitchen
You can't go wrong with a blue kitchen cabinet on the bottom and white kitchen cabinets at the top. This look is crisp and has a really bright look that will age well. You could pair it with a quartz or marble countertop or a butcher block to bring some warmth. This is one of the most popular ways to use navy cabinets and there are a million ideas for all kitchen styles!
Photo by Kountry Kraft via Counter Tops News
Blue Cabinet & Wood Cabinets
For a warmer and more rustic look, we love dark blue kitchen cabinets with wood details. You can accent with a wood stove hood, wood cabinets on the bottom or a wood kitchen island. Any type of wood will do, but we especially love the look of maple, walnut or a lighter wood like hickory. This look is complemented best by a white marble-like countertop.
Via Houzz
Navy Blue Cabinets & Gray Island
Gray and navy blue is a great color combination, and looks impeccable in a kitchen design. Go all in with a gray cabinets on your island and gray tones in your countertop and backsplash. Pair it with brass light fixtures for a chic look!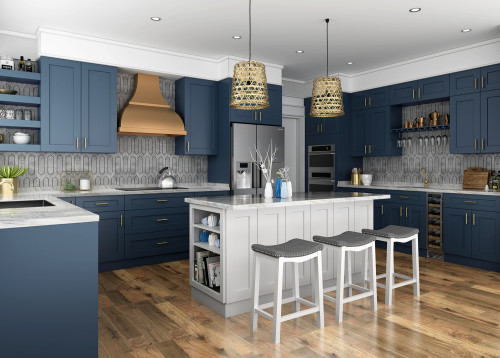 Navy Blue Kitchen Island
The navy blue kitchen island is a great option if you if you're not quite ready to commit to a whole navy blue kitchen. A navy island will ground your space and bring a nice contrast, especially to a white kitchen. This works great in modern farmhouse kitchens.
Navy Blue Cabinets & Brass
Nothing makes your navy blue cabinets sing like brass cabinet pulls, fixtures and lighting. Whether you choose a shiny brass finish or an antique look, you really can't go wrong with brass in your blue kitchen. Complement the look with a marble countertop and be sure to add brass pendant lights and sconces to complete the look.
Navy And Black Kitchen
You wouldn't think it would work, but you'd be wrong! For the modern home we love the look of navy blue cabinets and a black or charcoal countertop like marble. Admittedly, this look will only work if you have a lot of natural light and the rest of your home is very bright, but it's a great style for the right home! You could also do black cabinet pulls with your navy cabinets for a more subtle look.
Navy Blue Cabinets & Tile Backsplash
Complement your navy blue cabinets with a tile backsplash that features a fun pattern or color. For a traditional look you could go with Moroccan tiles, for a more modern look go for something geometric and angled.
Navy Blue Cabinets & Long Cabinet Pulls
For a sophisticated and clean kitchen, we love the look of long cabinet pulls on your navy kitchen cabinets. This works best for rooms with tall ceilings and cabinets that can go as close to the ceiling as possible. Bring the vertical lines into your oven hood and choose thin cabinets to complete the look.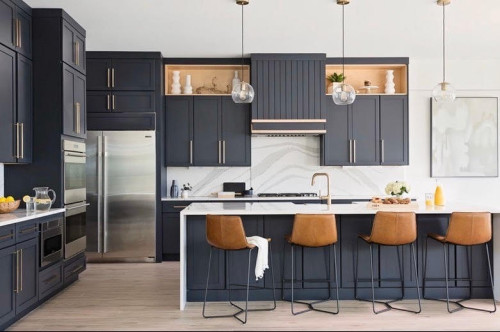 What do you think of navy kitchen cabinets? Would you ever use them in your kitchen design?